Egyptian Khan El Khalili is one of Egypt's most famous neighborhoods and one of the world's most famous tourist markets. Tourists always include Khan El Khalili Bazaar as their main destination on Egypt tours. Can we imagine the Khan El Khalili market together?
What's Khan El Khalili in Cairo look like?

Khan El Khalili Bazaar is located in Cairo and is considered the best destination for Cairo day tours. Because it's a market that has lots of shops for Egyptian souvenirs. The Khan El Khalili neighborhood has its own architecture and ancient buildings that date back to different times and eras. These buildings are the main reason for inspiring poets and authors to write different and amazing stories, songs, and poems. The Egyptian Khan El Khalili is a market that has a different vibe and a special luster. It's not logical to visit Egypt without passing through Khan El Khalili Bazaar.
What to visit in Egyptian Khan El Khalili Street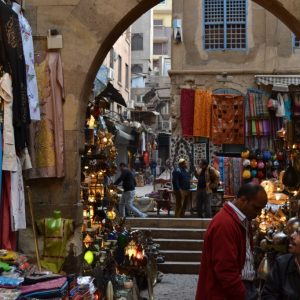 Khan Al-Khalili is amazing. Many Arab series and films have been filmed in the Egyptian Khan El Khalili Bazaar. Due to the antiquity of its buildings and a large number of its tourist attractions. Once you're in Khan El Khalili, you will be close to Moez Street, the second most famous street after Khan El Khalili and always included in Egypt travel packages.
In Khan El Khalili, you will be in medieval Cairo. Visit the Islamic architecture, El Ghoria market, as well as El Hussien Mosque. You will go on a journey back in time to the most beautiful high ages in Egypt.
What to eat in Khan El Khalili Bazaar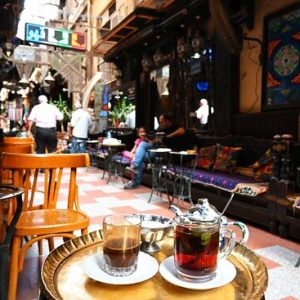 You will never get bored in Khan El Khalili Cairo. What about delicious Egyptian food in a local folkloric restaurant with Vantage International Travels? Through walking in Khan El Khalili, streets get ready for the different smells that will salivate you to the irresistible popular Egyptian dishes.
You will find different cafes with different ancient styles. Choose your favorite one and have a delicious dinner during your Khan El Khalili tour. The Vantage team recommends having a set at Al Feshawy cafe, as it's the most popular and oldest cafe in Khan El Khalili Egypt.
During your tour of Khan El Khalili Bazaar, enjoy eating the popular food of Egyptian cuisine. Including Koshary, Mahshi, Kabab, and Kofta in your dinner. Or you can enjoy the delicious breakfast with the feteer meshaltet, black honey, and cheese. After eating your main dish, try the Egyptian sweet desserts, including kunafa and basbousa. In this way, you will be too close to Egyptian culture. And this is the best way to enjoy your Egypt day tours.
Buy souvenirs for Khan El Khalili Market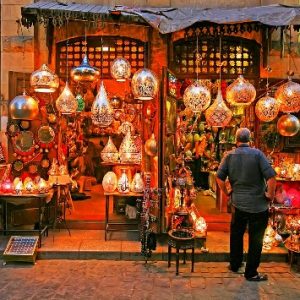 As you go around the Khan El Khalili Bazaar, you may become confused by the variety of things on offer. From dazzling silverware, goldware, and antiques to stained glass lamps, incense, and handcrafted accessories. There is something for everyone here. The softness of the handcrafted carpets will take your breath away. There are further sections for gold, copper, and spices. Vantage team adds to consideration free time for shopping in Khan El Khalili in our Egypt classic tours. Because we appreciate the confusion of buying due to the attractive gifts.
How to get to Khan El Khalili
Khan Al-Khalili is situated in the center of Cairo, opposite Al-Azhar Mosque and close to El Hussein Mosque. Moez Street is the closest tourist market to it. It's within walking distance of each other. You should walk down Moez Street as it occupies more than 29 Islamic attractions.
Among these landmarks are residential monuments such as the Suhaimi House, a one-of-a-kind form of private residential house architecture. Rather, it is Egypt's unique integrated home that symbolizes Cairo architecture during the Ottoman era. You can customize your tours in Egypt to include Moez Street in your Egypt luxury tours. It's a tour that suits the family, so it will be a good chance if you include Khan El Khalili, Moez, and Al Azhar in your Egypt family tours. As they are very famous Cairo Bazaars.